The question that we hear the most when taking a call from a prospective client more often than not is, how much is it to wrap my vehicle? Now we understand that price is a critical topic when it comes to investing in some form of advertising. On average, the typical types of advertising have a small return rate, somewhere in the five to ten percent. 
That is where a vehicle wrap has a unique twist. 
Vehicle wraps are the best method of advertising a small business owner can utilize and were about to tell you why. Now keep in mind, brands are sophisticated and require a multitude of channels appropriately addressed. That's where a real marketing expert like the folks at DeSoto Consulting can help. We are here to focus on the best method of advertising and help you understand why we are so passionate about what we do here at ProDezigns. 
Size matters: 
Vehicle wraps are, for the most part, the most significant advertising you can put directly in front of people. Think about it this way: a vehicle wrap viewed within 50 feet is more apparent than a billboard. If designed properly, your message becomes lifesize and is so close that there is no question as to who you are and what you do.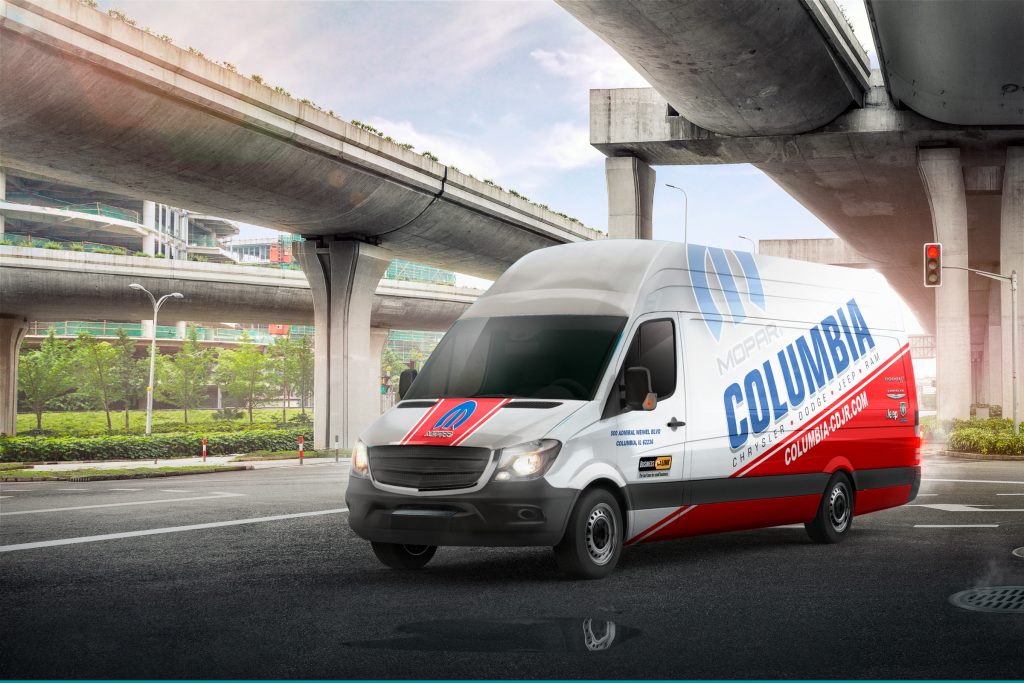 There is a medical science that proves the more significant and brighter, cleary intentioned an image is, and it is given mental priority over all the other distractions we see daily. Nowadays, we see around 4,000 to 10,000 ads every day. Vehicle wraps give your company a considerable advantage claiming that position in your prospective client's mind. 
Third-Party Credibility: 
In the world of marketing your business, the most potent weapon of all is third party credibility. In other words, if you trust someone in your world, and they recommend something to you that they have experienced, we as humans are more likely to give that business an opportunity. Think about it this way, if you need a lawyer, would you pick one of the internets or ask a business friend you trust for a recommendation? 
The same thing happens when you are working in an area that is your target demographic. It doesn't matter if it's a home service, a business service, or a wholesale channel. Your vehicle ends up at your client's location. The fact that someone in that demographic trusts you to service them will speak to all of the surrounding eyeballs. This transaction becomes a subconscious third party recommendation, and if they trust you, I could probably trust you too. 
Impressive impressions. 
Every time a potential client sees your vehicle wrap, you leave an impression. If designed right, the reaction has a massive impact. It creates a parking spot in every human's mind that is directly related to your offering. Think about it this way, and if you drive 15,000 miles a year, you could be in front of 9 million people. That is 18 million eyeballs that are processing your offering—plugging that image of your brand into a mental file. A file that is directly related to your offering. 
There is no other form of media that has these type of results. Period. 
The nuts and bolts of pricing 
Vehicle wraps providers have grown over the years, mostly due to the cost of entry, and sound financing has become available. This ease of entry has created a model this genuinely unfair to you, the end-user. 
Vehicle wraps as a whole require three things to be successful. 
Materials
You have to use proven and warrantable materials to put the message on. If you don't, the vehicle wrap will fail, especially in areas with a higher UV index. We only use premium films and certified inks. We have done so with the endorsement of 3M. ProDezigns is MCS Certified, which gives our clients unparalleled peace of mind. 
Design
The design has to be well thought out with your objective in mind. Every company has a unique offering that needs to present in the most effective light.  
The visual not only has to be designed but also needs to have the marketing architecture correct. Some wraps require a large logo to be prominent, and others require the service name to be the critical header. Coupled with how prints are prepared for printing and installation, every aspect of the visual requires real experience. 
We have both on staff, our designers have over 15 years of experience and have access to marketing experts that analyze our creative briefing process and make advisement. 
Installation
The final portion of every vehicle wrap is the installation. Professional installation requires a refined skillset, a tested skillset as well as a noncompromising standard. We have the highest possible standard when it comes to vehicle wrap installation. Certifications, coupled with an impressive portfolio that contains complex projects, gives our clients comfort in knowing we take the whole project seriously. 
So what constitutes the investment in a real vehicle wrap?
Well, if you want a commanding lead generating and customer conversion machine, does the investment matter. Yes! Here at ProDezigns, we take into account every aspect of providing our clients with the best tool possible by providing expert-level materials, design, and installation. We are a premium provider, and the investment with our product is usually higher but well worth the consideration. 
At ProDezigns, you get what you pay for, and we guarantee it. Now we can't tell you what a wrap would cost in a post like this, click here for a quote. What we can say to you is this, when your shopping for a provider to bring your image to life to the right target demographics, we gave you the questions to ask.
Questions we can confidently answer with years of proven results. 
We look forward to making your brand shine!
Jim Wheat